Draw circles for the creative flow!
Do you feel like painting something, but you don't have the ideas? Do you wish to make your picture simple, easy and full of joy? Then just use simple basic shapes – for example circles!
Whenever your creativity gets stuck or you lose the ease of painting a little, it helps to reduce yourself. Simple forms that are so easy for you to find that your inner critic is guaranteed not to have anything to complain about. 
I personally love circles! They are so wonderfully light and easy to put on paper – and at the same time they offer you such a large variety of design options that new circles, color combinations and patterns are created over and over again. Here I would like to give you a little inspiration on how you can create a happy picture from simple circles. 
Just follow me step by step: You will be surprised how easy it is and how much fun it is to build up a picture so simply and to play with the colors and lines!
Painting circles: simple shapes to get into the flow
I paint with watercolors on sturdy 300g watercolor paper. You can of course modify the tutorial as you wish and with your materials.
First I divide my sheet of paper into individual squares. Of course, you can also put your circles on the sheet of paper freely, but I really liked the even arrangement here. So afterwards there is a circle 🙂 in every box
In the next step I choose my color palette. To keep it simple I just want to paint with four different colors. Have you tried this before? The easier it is for you to get into the flow, the easier you keep painting 🙂
The first circles in watercolor – very easy!
Now it starts with the circles! Start in a box of your choice and with the color of your choice. Then just work your way back and forth across your picture. You can keep the circles monochrome or mix colors together. Just have fun experimenting!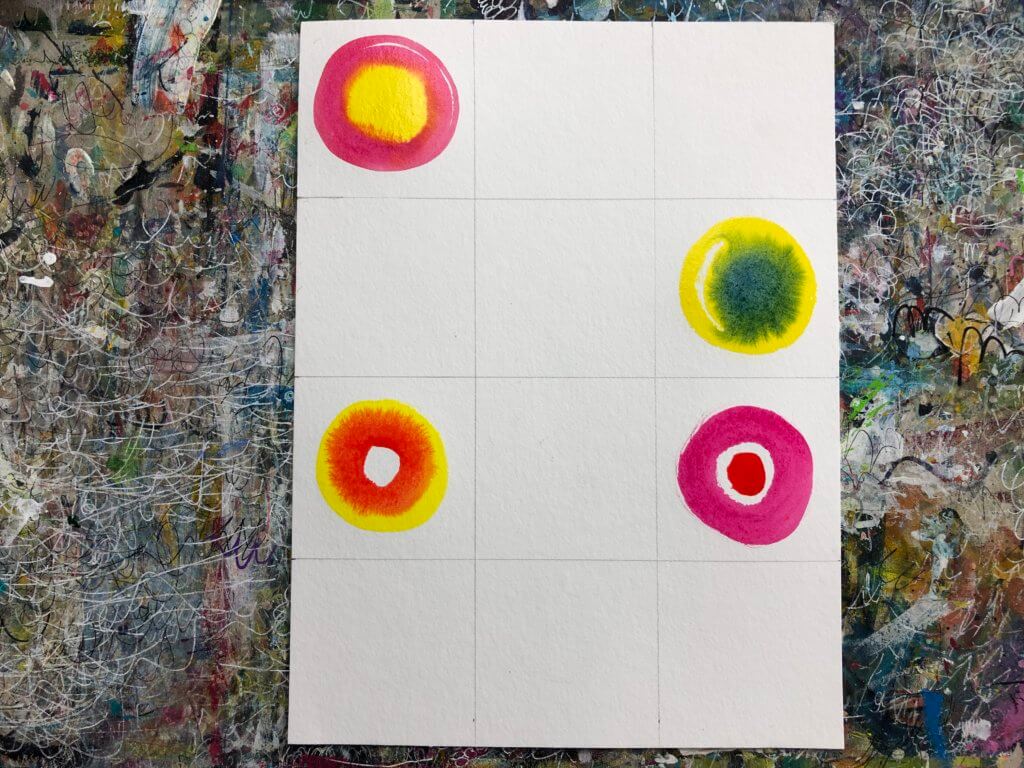 Keep painting until a brightly colored circle laughs at you in each box. If you like, let the first layer of paint dry and then go into the circles again with fresh paint to add more colors, patterns, details. Right from the heart!
I now erase the pencil lines when the watercolors are dry. Then the gimmick with the fineliner continues! I take a waterproof, thin fineliner and just circle around my colored circles. Very important: stay in the lightness! The circles can be "imperfect" egg-shaped and crooked like your color circles 🙂
With the black fineliner, I then just go over the picture and add small details here and there. Here too, simply let your hand guide you and your intuition. The patterns and details can appear as if by themselves, very easily!
Then the white fineliner * is used. With this I also bring small details into play and add small patterns, dots, shapes to my circles – entirely on the whim! Just look how the picture has changed!
But let's keep playing a little longer 🙂 How about a few small splashes of paint, knocked loosely on the paper with a brush? It's so much fun! 😀
When the colors have dried, the circle picture is actually already finished. But I still wanted to give the circles a little more contour. So I picked up a slightly thicker black felt-tip pen again and traced a circle again.
And this is what the finished picture looks like: