Stamps are a real favorite material in many creative areas! How about if you could make your own stamps? This is not only easy on the wallet, but also gives you the freedom to stamp your own ideas and motifs! We'll show you how you can easily make your own stamps and what options you have with it.
What for self-made stamps anyway?
What can you even use self-made stamps for? You might ask yourself. The possibilities are so many! Especially when you are not restricted by the motifs of ready-made stamps, but keep creating your own ideas and pictures.
For example, you can use stamps for mixed media techniques and give your images exciting structures, effects and shapes. Stamps are also popular in art journaling and make it easy for you to create varied backgrounds. You can apply stamps with watercolors, gouache or watercolors , with acrylics, inks, stamp paint or all kinds of craft paints to create pictures on paper and canvas.
Stamps are also suitable for embellishing cards, decorating bookmarks, designing wrapping paper, envelopes, coasters, sachets or tags. Stamps, combined with textile inks, are also used again and again on textiles and create t-shirts, dresses, colorful shirts and blouses, tablecloths or placemats in no time at all.
You see – there are hardly any limits to your imagination to create real works of art and unique items with your self-made stamps!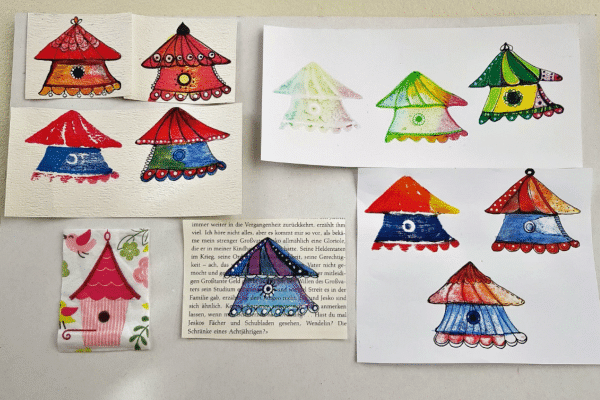 And how does it work now – make stamps yourself?
There are various options for enjoying self-made stamps. You probably know the simplest one: the classic  potato printing , which was very popular in the 1970s. But there are even more effective methods with which you can create your motifs more precisely – and which, above all, produce durable stamps (without smearing …).
If you want to make it particularly easy for yourself with the material, a simple  eraser is  sufficient – you will definitely find it at home in any drawer 🙂
Draw your motif on the eraser with a pencil and then cut the lines a few millimeters with a craft knife. You should also remove a little bit of the eraser around the outer lines.
You can then  glue the carved eraser to a wooden stamp handle so that it sits comfortably in your  hand. You can buy the wooden stamp handles and simply attach the eraser with a little glue.
Our favorite method, however, is a different one:  designing stamps out of foam rubber  ! Because foam rubber offers you some wonderful advantages:
The material is very soft and makes it easy for you to cut even complex shapes to size.

Foam rubber is available in large and small formats, so that you can also design really large stamps yourself, without restrictions (you will hardly find a giant eraser, however).

Foam rubber is durable and can be used for stamping with different colors as well as many times.

Last but not least, stamps made of foam rubber are inexpensive to manufacture.
Foam rubber stamps: It's easy
To make a stamp out of foam rubber, you also draw your motif here with a pencil and then cut it out accordingly. You can trace the lines within the motif with a pencil or ballpoint pen so that they leave deeper marks in the foam rubber and are then also visible as lines when stamping.
When your motif is ready, you paint it and stamp it on the paper or surface of your choice. You can stamp individual motifs or create a whole pattern by stamping the same motif several times. Combine stamping with your own paintings or other creative techniques and let your ideas run free!
… and the ink pad?
A very simple ink pad, if you work with liquid colors, you can conjure up quickly and easily from a household sponge. Simply coat the sponge with acrylic paint – and you can use the sponge as an ink pad!
Would you like to learn more about self-made stamps?
In her video course " Colorful Stamping ", Birgit Bruhns shows you what is important when making your own stamps, what you have to pay attention to and how it all works step by step .
Here you will learn everything about the production and use of self-made stamps made of foam rubber, learn helpful tips and tricks to work like a professional and create the most beautiful works of art
Birgit also shows you how to work with different types of paper and how you can continue to creatively design your stamp images.